The following two CDs can be purchased from ericcomposer48@gmail.com at 12 euro each including postage, and paid for by Paypal. All music was written for, and performed on, the Kenneth Jones organ (built 2003) at Christ Church Cathedral, Waterford.
The Bright Seraphim which features The Bright Seraphim, Processions, Down the Ladder, Kyrie from Hymn to Gaia, Introduction and Passacaglia, Three pieces from the Mass of St Patrick and an improvisation on 'Let the Bright Seraphim'.
Circle of Light which features Le Cercle de Lumiere, Missa Brevis for two-part choir and organ, The Secret Rose, Jubilate Deo for two-part choir and organ, Adventus, Three Carols, the Widening Gyre and Christ is the World's Redeemer for choir and organ.
Ripples in Time – Rockfield Recordings (cost 8 euro including postage)
Ripples in Time, is a computer-generated dance work which was commissioned by Garter Lane Arts Centre and Waterford Youth Drama
………………………………………………………………………………………………………………………….
Irish Holidays, Genuin Recordings John Finucane, clarinet and Elisavita Blumina, piano. "Eric Sweeney's Duo for clarinet and piano (1991) is a delight. Apparently, the composer used to utilise serial techniques and extended tonality, before having an 'Epiphany' in the late 1980s. His style now appears to be a fusion between Irish folk music and minimalism. It is an exciting and enjoyable piece."(John France) Music Web International, Genuin Recordings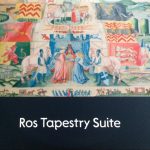 Ros Tapestry Suite is a suite of fifteen pieces for solo piano by different Irish composers commissioned by the New Ross Piano Festival in response to the Ros Tapestry, a series of 15 very large tapestries for a permanent exhibition in New Ross. It includes Evening: The Lighthouse at Hook Head (2015) played by Olga Scheps.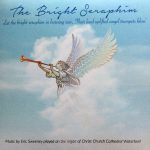 The Bright Seraphim is a selection of compositions for organ, most of which were written from 1991 to 2018 when Eric was organist of Christ Church Cathedral in Waterford. They include The Bright Seraphim, Processions, Down the Ladder, Sinfonia, Kyrie from Hymn to Gaia, Passacaglia, Three pieces from the Mass of St Patrick and an Improvisation on themes from the aria 'Let the Bright Seraphim' from Handel's oratorio Samson.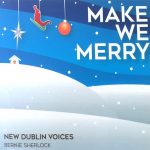 The carol There is no Rose (1981) is included  in this new recording Make We Merry by New Dublin Voices conducted by Bernie Sherlock which was launched on December 2017 in Dublin.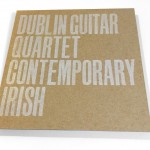 Dublin Guitar Quartet – Contemporary Irish
Dublin Guitar Quartet's new CD (2017) of contemporary Irish music features Prism (2003) and Song (2005).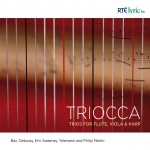 Triocca: Trios for Flute, Viola & Harp – RTÉ Lyric FM.
"Triocca's selection and treatment of works from Irish composers Philip Martin and Eric Sweeney is marked by the way they always pursue substance over style with regard to new music." contains Walk/Don't Walk (2011)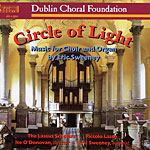 Circle of Light – Dublin Choral Foundation
Contemporary music for choir and organ by Eric Sweeney performed by The Lassus Scholars and Piccolo Lasso under their director, Íte O'Donovan and with the composer as organist. 'Circle of Light' spans the past two decades of Sweeney's output and includes major works such as Le Cercle de Lumiere (1999),Missa Brevis (1992) and The Widening Gyre (2003).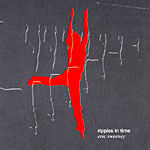 Ripples in Time (2002) – Rockfield Recordings
"Eric Sweeney's minimalist score, Ripples in Time, is a dance work which explores the themes of childhood adolescence, adulthood and old age. The hopes, fears and dreams associated with each age are interpreted through Sweeney's specially composed score which was commissioned by Garter Lane Arts Centre and Waterford Youth Drama."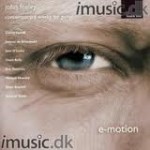 Figurations – Black Box Music 1998
John Feeley plays contemporary works for guitar: The Shannon Suite by Ciarán Farrell; Gemini by Jerome de Bromhead; Four Pieces by Jane O'Leary; E-motion by Dawn Kenny; Figurations (1981) by Eric Sweeney; Niagara Falls on Thomond by Michael Howard; Three Pieces by Brian Boydell and The Voyage of Maeldun by Andrew Shiels.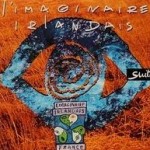 L'Imaginaire Irlandais  Saxophonist Gerard McChrystal and pianist Kathryn Page perform Duo (1995) Keltia Musique M305 (France) 1997  "L'Imaginaire Irlandais has since St. Patrick's Day 1996 opened the door for a wide French public on a new wave of Irish musical talent. Well known performers like Christy Moore, Donal Lunny, Altan and De Dannan were joined by scores of other singers and instrumentalists to illustrate Ireland's musical wealth to     audiences all over France."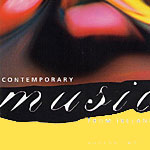 Contemporary Irish Music  CMC CD01 (Ireland) 1995
Volume One in a series of promotional CDs issued without charge by the Contemporary Music Centre to provide a stimulating introduction to the work of Irish composers. Contains Duo (1995). "This 'musical calling card' was produced with the assistance of funding from the Arts Council / An Chomhairle Ealaíon."


The Windhover (1995)- Music Alliance NCA MA-DE 96 (Switzerland) 1996
"Piano music from three centuries, interpreted by up and coming young performers – the interest in this recording lies in both the choice of pieces and their unconventional interpretation, which inspires curiosity and enthusiasm".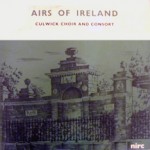 Airs of Ireland – NIRC DEB 002 (Ireland)
This record, made by the Culwick Choral Society of Dublin, under their conductor Eric Sweeney, is a mingling of the traditional airs of Ireland with original works by Irish composers. contains Gloria (1972) for unaccompanied choir, commissioned by the Cork International Choral Festival.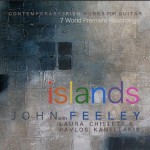 Islands – Contemporary Irish works for guitar played by John Feeley. Overture Music Limited (2010) "The collection encompasses a wide variety of compositional styles and approaches to writing for the guitar and offers a good overview of the contributions to this genre by Irish composers." contains Three Folk Songs for Guitar (2003)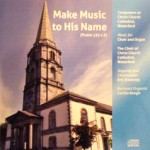 Make Music to His Name – CCW01 (2011) Composers at Christ Church Cathedral, Waterford. The choir of Christ Church Cathedral, Waterford, organist and choirmaster Eric Sweeney, assistant organist Cecilia Keogh.Contains Holy Communion Service, Evening Canticles and Four Improvisations for Organ.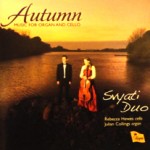 Autumn – Music for organ and cello -Svyati Duo (2011) Rebecca Hewes, cello, and Julian Collings, organ. Regent Records 364. "Autumn Music (2005) is a reflective piece presenting a sustained lyrical melodic line for cello against a constantly flowing pattern of notes in the organ part".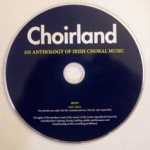 Choirland – An anthology of Irish choral music. CMC 6001 (2012) National Chamber Choir of Ireland, conductor Paul Hillier. contains There is no rose (1981) "Overall I find a freshness of spirit, an exuberance of invention, and music that is unconventional, yet exhilarating to perform and great to listen to." Paul Hillier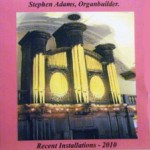 Recent Installations – Stephen Adams, Organbuilder (2012) Eric Sweeney plays Introit, Kyrie and Postlude from the Mass of St Patrick (2007) on the organ of St Mary's Parish Church, Cahir, Co.Tipperary. CDs in aid of the Irish Hospice Foundation are available from Stephen Adams, Tankardstown, Tullow, Co. Carlow.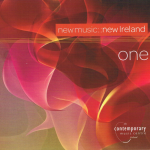 Ceol Rince Ros Mhic Threoin (New Ross Dance Music – 2009) is included on the New Music: New Ireland CD (2013) issued by the Contemporary Music Centre . Written for three pianists at the  New Ross International Piano Festival, it is played by Finghin Collins, Dearbhla Collins and Alexander Bernstein (piano).